Responsible and Reliable Waste Management and Recycling
Across the South West including; Bristol, South Gloucestershire, Bath and the whole of Somerset
Average skip
delivery time
-
0%
1%
2%
3%
4%
5%
6%
7%
8%
9%
10%
11%
12%
13%
14%
15%
16%
17%
18%
19%
20%
21%
22%
23%
24%
25%
26%
27%
28%
29%
30%
31%
32%
33%
34%
35%
36%
37%
38%
39%
40%
41%
42%
43%
44%
45%
46%
47%
48%
49%
50%
51%
52%
53%
54%
55%
56%
57%
58%
59%
60%
61%
62%
63%
64%
65%
66%
67%
68%
69%
70%
71%
72%
73%
74%
75%
76%
77%
78%
79%
80%
81%
82%
83%
84%
85%
86%
87%
88%
89%
90%
91%
92%
93%
94%
95%
96%
97%
98%
99%
Waste recycled
last month
Resourceful Recycling
McCarthy Marland is an independent and fully licensed waste management company who have been providing waste recycling services to Bristol and surrounding areas for over 20 years.
We provide skip hire, roll-on roll-off, grab hire, wheelie bins and other waste management services to Bristol, Bath, south Gloucestershire and Somerset.
We deliver quality services and make resourceful use of the waste materials we handle to produce recycled products and renewable fuels.
Providing a responsive, friendly and reliable service is at the very heart of our values. We go the extra mile to deliver quality throughout our business and provide a first class service to all our customers
Read more
Waste recycling centres
Bristol & Bath
Albert Quay Albert Road
Bristol BS2 0XS
Somerset
Somertonfield Rd
Somerton TA11 6HY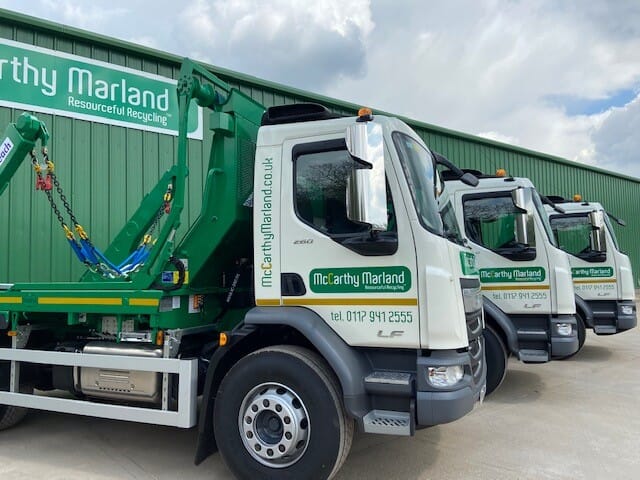 We have used McCarthy Marland for number of years for our waste & recycling service and through this time they have be very flexible and responsive to our needs. Certainly, through the Lockdown period where we've had to chop and change our demand at short notice on what collection we required – Technical Services Manager

SS Great Britain

One thing I would say is that your regular driver who makes the collection from us is so very helpful on site!

Street Football Club

A friend of mine told me about McCarthy Marland when I was starting my new business. With this recommendation I called them and within minutes had an account set up, and the service has been wonderful ever since that very first phone call through to the most recent collection (weekly for us). Not everything in business is simple but this decision should be for you. Call them today!

Street Shakes

We are delighted to be working in partnership with McCarthy Marland on our waste disposal for the stadium. Their flexible approach and timely service enables us to manage our varying waste requirements around our busy fixture schedule

Bristol Rovers FC